Mission & Vision
MAIN OBJECTIVES OF THE INSTITUTION
The main objectives of the institution are the all round development of Students' Personality i.e. to make them physically sound,mentally mature,emotionally healthy and spiritually awake.It cherishes to impart such education that will enable them to move away from the narrow domestic walls of caste, creed, language and region to national identity.It tries to inculcate in them a genuine spirit of co-operation, team spirit, social service and dignity of labour.It also helps them to participate in all activities for bringing about the perfection of body, mind  and spirit.
We believe
We believe in the high philosophy of ancient Rishis and at the same time provide knowledge of the modern science and technology
.
| | |
| --- | --- |
| | That true education lies not only within four walls of a class-room, nor does it lie only in the pages of books but it lies in an all round drawing out of the best in the child's mind, body and spirit. |
| | That true education lies in creation of a sound mind in a sound body. |
| | That true education is nothing but elevation for learning. |
| | That true education lies in the development of a moral character. |
| | That true education is natural, harmonious progressive and systematic development of all the powers and aim of education is not to instruct but to develop. |
| | That true education means the expansion of man's comlete inviduality. |
| | That education is a gateway of life. |
Principal's Desk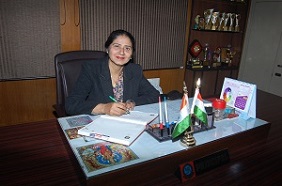 Due to globalisation,the world is expanding enormously and the borders are disappearing.The world today is dynamic and one cannot become indulgent and static in this fast-changing scenario.The 21st century is an age of uncertainties and the frequent changes attract emerging challenges which impact both curricular as well as pedagogical perspectives in the school.